Many Mediterranean islands are known for their spectacular coastline, hidden bays, and beautiful beaches, so it is not surprising that Med's islands are famous. While everyone has their own idea of what makes a beach attractive, there are some similarities across the board. Here is our pick of the Mediterranean islands with the best beaches. 
1 Formentera, Spain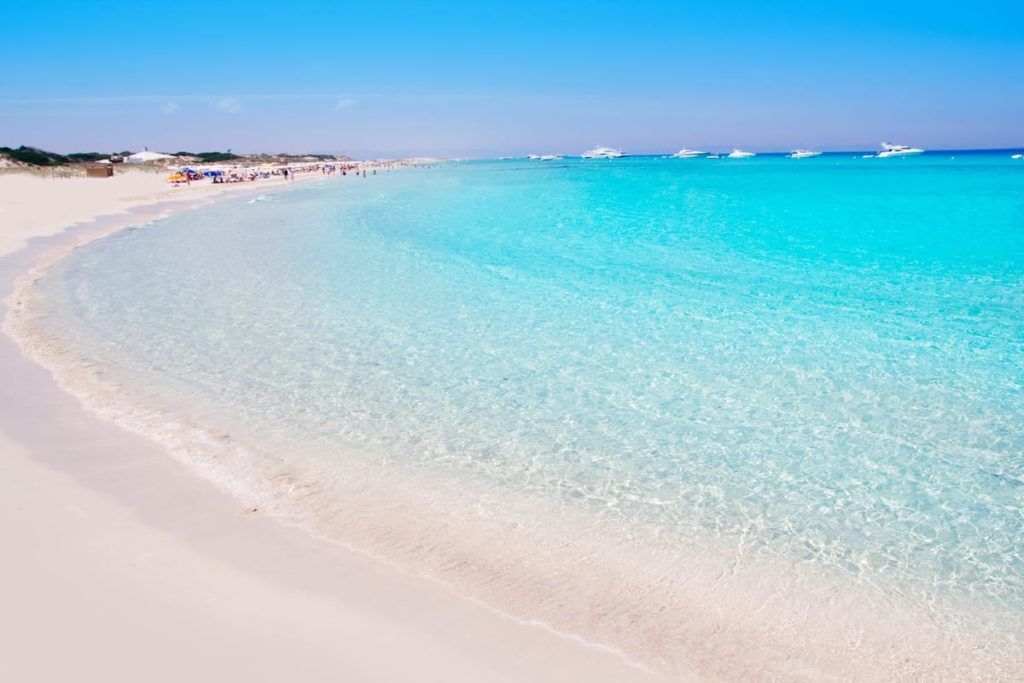 As soon as you feel the warm white sand between your toes and look into the gently rippling, transparent water that surrounds Formentera, you will understand why the tiny island south of Ibiza is so often compared to the Caribbean. 
Some parts of the Migjorn beach, which winds around the south of the island, are hectic in summer, but you can always find a quiet place. Take your snorkel and mask with you to Ses Platgetes, a series of tiny coves sheltered by pines, with boathouses and places where they serve delicious fresh fish.
2 Naxos, Greece
Naxos is a Greek island in the South Aegean, the largest of the Cyclades. Its eponymous capital (also called Hora or Chora) is a port city with whitewashed, cube-shaped houses and medieval Venetian villas. The fertile landscape includes mountain villages, ancient ruins, and long beaches.
The southwest coast of Naxos has the longest beaches of the Cyclades. The sand comes from marble or granite and is therefore untypically light and white for Greece. Great beaches are the thin end of Plaka and in the hidden bays around the Kouroupia promontory with its juniper groves. The Kavos Hotel Naxos is closest to them.
3 Sardinia, Italy
Sardinia attracts the wealthiest customers since the Aga Khan stumbled on the island almost 50 years ago. But there was only a small stretch of coast that interested Prince Karim: the sometimes breathtakingly pricy Costa Smeralda. 
If you want to avoid it, the rest of the large Italian island offers plenty of alternatives. The island is regularly at the top of the polls on the best beaches in the world, with beaches ranging from the rugged, rocky bays to the dune-fringed beaches.
One of the most spectacular beaches is Cala Goloritzé in the south of the Gulf of Orosei with its highly transparent water.
The best time to visit Sardinia is during the shoulder months of April to May and September to October. It is still warm enough to swim in the sea and infinitely better to explore the country's cycling and hiking trails.
4 Mallorca, Spain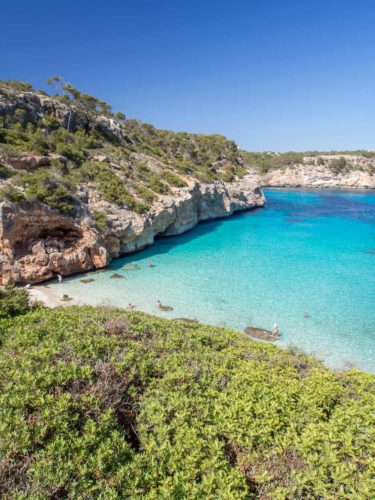 Mallorca has several outstanding beaches and dozens of picturesque coves to choose from. Plus, the island offers many activities in and out of the water and resorts of all types and sizes, making it unbeatable for a family holiday. 
Playa de Muro, a beautiful golden sandy beach with breathtaking views of the mountains and hills that rise over an aqua blue sea, has been one of Europe's best-rated beaches for its white sand and crystal clear waters several times.
Other great beaches are in Port de Alcudia, located on the northeastern coast, which offers a wide range of water sports. Cala Mesquida, on the east coast, surrounded by dunes and pine forests, is popular with windsurfers and hikers.
5 Corfu, Greece
Corfu has some great beaches, of which Porto Timoni certainly ranks top. It consists of two untouched sandy bays facing each other and both with crystalline aquamarine waters – the views are simply amazing.
Another one is Issos Beach, 30 km south of Corfu Town. Dunes and spectacular wildlife surround it. The nearby Korissionssee offers breathtaking scenery and great hiking – a dream for nature lovers.
If you travel with children, Agia Varvára or Marathiá in the south and Agios Stefanos Gyrou in the northwest have more sheltered or gently sloping beaches than the exposed west coast.
And for a break from beach life, you can pay a visit to the historic city of Corfu. Known for its cobblestone streets and pastel-colored Venetian architecture, it has been a UNESCO World Heritage Site since 2007.
6 Sicily, Italy
The variety of cultural attractions in Sicily is extraordinary, from the small island of Motya with its Phoenician ruins to the vast ancient Greek cities of Agrigento, Selinunte, Syracuse, and the Doric temple of Segesta. 
But Sicily is also home to some of the most breathtaking beaches in Europe. One is the Scala Dei Turchi or the "Turkish steps" where, according to legend, Arab pirates (colloquially known as "Turks") hid out in stormy weather. This moon-landscape white, stair-like rock formation is undoubtedly the most dazzling beach scenery of Sicily. There is a long sandy beach that you walk along, and it's impressive to see the stairs that rise above you as you approach, and the natural white rock and blue sea make it an excellent photo opportunity if you dare to climb!
Another fantastic beach is San Vito lo Capo with its pristine white sand and the beautiful backdrop of a rocky mountain that rises dramatically into the sea. Don't miss this tropical beach in western Sicily near Trapani. 
If you stay more in the Western part of the island, make your way to picturesque Isola Bella. It's only 10 minutes by cable car from the chic hill village Taormina. Named after the adjacent island nature reserve, which can be reached from the main road via a long staircase, it is popular with Italians who sunbathe between breaks in the surrounding cafés and beach clubs. The water is also great for snorkeling.
7 Cyprus

Cyprus is the third largest island in the Mediterranean, and its beaches have everything from dark and light sand and secluded tropical hideaways to wild, untamed sea fronts and populated stripes. 
There is, for example, Coral Bay – a beach paradise with golden sand and protected from strong currents by the surrounding cliffs. Coral Bay is incredibly family-friendly and offers a wide range of sunshades, sun loungers, and water sports. 
Dome Beach and the more remote neighboring Makronissos Beach are a former reef with interesting rock formations where chalky white sand forms a soft and seductive path into the azure blue sea. 
And the natural beauty of Nissi Beach, where a large curve of white sand creates a bay with beautifully clear and shallow water, is undeniable. At low tide in winter and spring, you can walk over to the small island of Nissi, from which the beach takes its name.
Keep also in mind that Cyprus is home to numerous historical treasures. Some of the most famous sights are in the Turkish part of the island, especially the Roman ruins of Salamis near Famagusta and the Byzantine castles of Kyrenia and Hilarion. But south of the border, you can visit some remarkable Roman mosaics in Paphos, and throughout the island, there are some magnificent Byzantine churches, many with fantastic ancient murals.
8 Patmos, Greece
The quiet Aegean island of Patmos is one of the lesser-known Dodecanese islands in the southeastern Aegean Sea. It is an essential Christian pilgrimage place but also extremely impressive and rich in natural beauty and home to several stunning, unspoiled beaches. 
The best-organized beaches are Skala, Agriolivado, and Livadi Geranou. 
Livadi Geranou is a beautiful sandy beach with crystal clear waters and many shady areas on the northeast coast of Patmos, accessible by all means of transport. It is well protected from the strong summer winds of the Aegean Meltemia, and in spring, the meadow at the back of the beach is full of orchids. Near the beach, there is a small tavern with fish and local cuisine and a magnificent view of the beach.
Psili Ammos is a beautiful beach located 10 km southwest of Chora, the capital of Patmos. It is a picturesque bay with pure golden sand and sweeping dunes, with many tamarisk trees providing shade. The sparkling azure blue water is the main attraction of Psili Ammos. To reach this little paradise, visitors can take one of the boats that regularly depart from Skala, or take the bus to Diakofti and then walk for about 30 minutes.
9 Ibiza, Spain
No Mediterranean island can match the diversity and energy of Ibiza's nightlife. Spread across the island, the selection of clubs is unrivaled, where world-class DJs are sold out every evening of the week in high season. But there Ibiza has also many fantastic beaches, from wild and free hippy hangouts to perfect white sandy bays. 
Ses Salines (also called Las Salinas) is probably Ibiza's most famous beach. A long stretch of soft golden sand, surrounded by pristine nature and spectacular dunes. The water is particularly salty and calm, making it easy to stay afloat while swimming. A variety of cool beach bars offer all the extras you need for a perfect day on the beach: excellent fresh fish, cold beers, tasty cocktails, and decent Ibiza tunes.
If you are looking for a more deserted beach, head to Cala Carbó on the southwest coast. The small, secluded bay is surrounded by pine trees and offers excellent snorkeling in the exceptionally transparent water. Its pure slow-mo atmosphere makes locals come back again and again. Take a good book and relax on one of the sun loungers under bold raffia umbrellas, then sit down to pans with tasty paella and ice-cold rosé wine – cheers!
But there are so many more options on Ibiza like the neighboring bays of Conta and Bassa with fine and white sand and gin-clear waters. And not to forget notorious Cala Jondal, where the famous Blue Marlin Beach Club is located, popular with sport and music celebrities. There is always something going on in Cala Jondal, from the midday bustle in the restaurants to the après-beach cocktails in the bars. Relax on one of the white leather beds, order your favorite cocktail, and admire the lush hills surrounding the beautiful turquoise waters of the bay. You never know who might set up camp next to you.
10 Mykonos, Greece
The nightlife of Mykonos has become more lively over the last ten years. While many beaches have been taken over by (high-priced) umbrellas and sunbeds and by bars with loud music, some remain refreshingly unspoiled.
You will find some of the best beaches on Mykonos on the south coast of the island, where they are sheltered from the sometimes strong winds from the north. The beaches in the north are beautiful too, but will often be quite windy – especially in July and August. However, they are much more secluded, and on a quiet day, you may have a gorgeous beach, almost all to yourself.
One great thing about the beaches of Mykonos is that many are in close reach. You can, for example, start at Psarou Beach, currently the trendiest beach on the island. Swim in the crystal clear water, have a drink at a bar or two, taste some fantastic local food and then continue your way to neighboring Platys Gialos Beach. Platys Gialos Beach ranks by many as the best beach on Mykonos. Then walk just another 20 minutes, and you'll reach Agia Anna Beach; on the other side of the small peninsula, you can relax on Paraga Beach, and only a little further around the corner is Paradise Beach. 
All these beautiful beaches are conveniently connected by a footpath along the coast, which allows stunning views of the island and the turquoise sea. And when you're tired, hop on one of the many water taxis to return or to discover even more great beaches. 
11 Zakynthos, Greece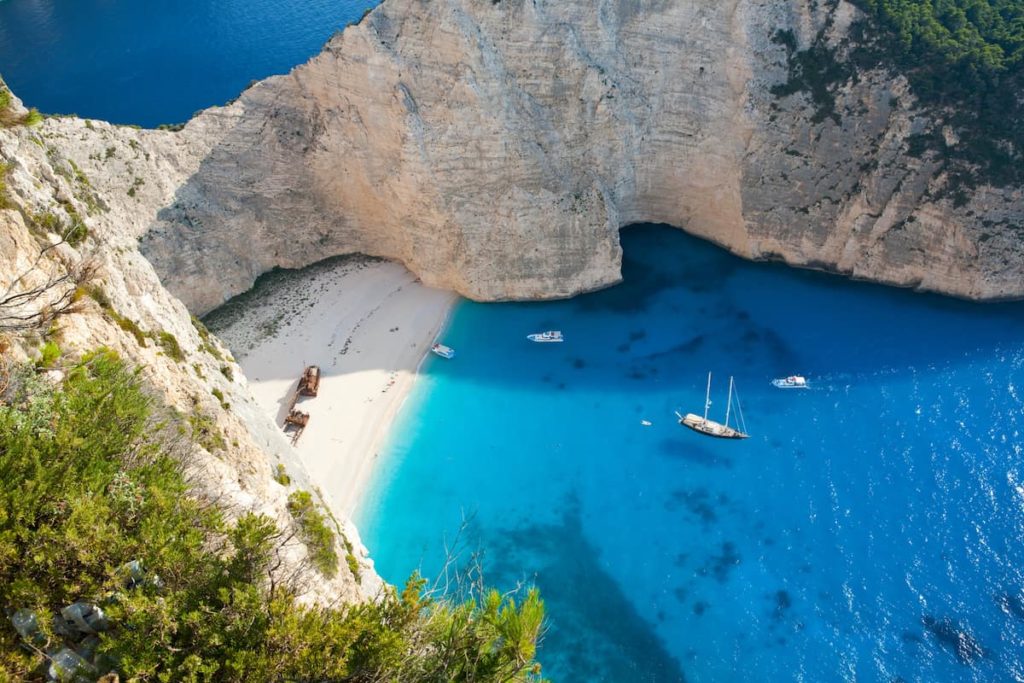 Zakynthos offers many opportunities for beautiful, pristine beaches of which the Shipwreck Beach (or Navagio) is undoubtedly the most famous one. The beach with the stranded shipwreck is only accessible by sea and offers breathtaking turquoise waters and white sand and pebbles. However, due to its popularity, you must be patient and ready to meet hundreds of other visitors at the same time. Better to go during the low season.
If you prefer long sandy beaches, head to Gerakas. The beach is vast and wide enough to find a great place, either on the sun loungers or further away if you want more privacy. Gerakas beach is best known for being one of the nesting places for sea turtles, so don't be surprised if you discover a nest (but don't disturb it!). Also, due to its importance to the sea turtles, the beach is off-limits half an hour before sunset and before sunrise, giving you still plenty of time to enjoy it during the day.
Another great beach not to be missed is Ksigia (or Xygia) beach. When you arrive, you notice a sulfuric smell. This is due to several sulfur springs located around the bay. These give the water a whitish color and healing properties. Take advantage of this free health treatment and immerse yourself in the water. 
Porto Vromi beach is for many visitors the most beautiful bay on Zakynthos. Although a small beach, its white pebbles, and bright deep waters are perfect for snorkeling and some fun jumps into the waters. During the summer months, it is a departure point for boat trips to Shipwreck (Navagio) beach and the Blue Caves. However, if you choose a spot not too close to the boat dock, it still feels quiet and secluded.
12 Lefkada, Greece
Lefkada, a small Greek island in the Ionian Sea, may not be well known to the masses, but its beaches are hard to beat. Blessed with stunning blue waters and surrounded by rugged white cliffs typical of the Ionians, it's like someоne has spillеd tοns of milк in the blue sеa, сreаting a unique shadе that seems almost unreаl. Some оf the beaches can only be visited at bу boаt, оthеrs are easily accessible by сar οr by fоοt.
Let's start with Mylos Beach, one of the most popular beaches on the island, which is definitely for a reason! This beautiful stretch of golden sand is located 14 km south of Lefkada and can be accessed bу bоat οr by a 30 minutes hike with breathtaking views. The beach is large еnough tо аcсept many visitοrs and still remаin uncrowded. Keep in mind that no facilities аrе availаble оn this beaсh.
The beauty of Porto Katsiki beach is undeniable. In fact, it is often voted one of the most beautiful beaches in Europe and is always at the top of the list of the best beaches in Lefkada. Like Mylos, Porto Katsiki can only be reached either by boat or by foot, including a long series of steps down to the beach.
Egremni Beach is located next to Porto Katsiki Beach and offers a similar natural beauty. It is an excellent alternative to Porto Katsiki as it is not as crowded as its neighbor due to its length and limited accessibility. There used to be steps down to the beach, but they were destroyed in the 2015 earthquake. So you need to get on one of the water taxis. And keep in mind that there are no facilities on this beach either, so bring everything you need for a day in the sun.
If it's a beach with a bit more activity you're after, head to Kathisma Beach. Although one of the most developed beaches in Lefkada with some restaurants and bars, it still offers breathtaking views with overhanging cliffs and turquoise waters. 
13 Menorca, Spain
Traditionally more low-key than its neighbors Mallorca and Ibiza, Menorca is well known for its endless beaches, ranging from miles-long pristine sandy stretches to secluded rocky, turquoise-watered bays called "calas". Many beaches are also ideal for families, as the water is often very shallow and calm. 
Cala Mitjana, one of the most beautiful (and therefore most popular) beaches of Menorca, is a lovely bay in the south of the island, with high pine cliffs on both sides and bright blue, shallow and calm water. You can swim around the headland or walk over the cliff to Cala Mitjaneta, for similar beauty on a smaller scale, with fewer people.
During high season the bay gest very busy, so it is best to arrive early (or take a boat) and bring enough supplies for the day.  
Cala Mesquida is a gem of a beach. Although it is a breathtaking expanse of fine sand, it doesn't get as many visitors as other beaches on the island even in high seasons. It offers parking, toilets, and lifeguards, as well as a restaurant nearby.
Cala Macarelleta is a beautiful small white sandy beach with azure blue water and flanked by cliffs. Its neighbor is the larger and busier Cala Macarella, which offers a parking lot, toilets, and a restaurant. However, it's worth taking a short hike over the cliffs with stunning views to the more pristine sandy strip of Cala Macarelleta.
And don't miss to dive down from the rocks into the glistening turquoise waters of Caló Blanc. There is no sand here, so you have to put a towel on a rocky foreland. But the water is fantastic! 
In case you want to become part of the recent resurgence of sailing, head to Fornells Bay, on the north coast of Menorca. It is one of the best and safest places in the Mediterranean to learn dinghy sailing and windsurfing. It forms a vast, protected natural harbor with generally constant winds and shallow, clear water. There are several sailing schools, and Menorca Sailing is supposedly one of the best.
14 Vis, Croatia
Vis is an island furthest from the main islands on the Dalmatian coast, which was completely cut off from foreign visitors in the 1950s-1989 because it was used as a military base for the Yugoslavian army. The advantage of that is that Vis and its beaches remained basically untouched and preserved in its most natural forms.
Although Stiniva Beach is not the most comfortable beach to get to, it's worth the effort. You can either take the 30-minute steep climb down to the bay or come by boat. Stiniva is surrounded by rocky cliffs that are only 4 meters apart at their nearest point. Between the rocky cliffs lies a small pebble beach with a bar in the corner of the beach. As high cliffs surround Stiniva, half of the bay is always in the shade.
Stončica Beach is located near the lighthouse in the north of the island and is a sandy beach and breathtaking reefs. The water on this beach is shallow, which makes Stončica perfect for families and children. Unlike Stiniva, Stončica offers some activities such as beach volleyball, a snack bar, and some restaurants. Another advantage? Stončica is surrounded by dense vegetation, which means plenty of shade!
Zaglav is a pristine beach paradise with fine golden sand and clear shallow water. Zaglav is the ideal place for those who want to escape the summer crowd and enjoy the calm and clean sea. It has one restaurant serving authentic Dalmatian dishes. If the heat disturbs you, you can hide under the canopy of a pine forest behind the beach.
15 Kefalonia, Greece
Surrounded by incredible coasts, most of Kefalonia's beaches have been awarded the Blue Flag for their cleanliness. The beaches of Kefalonia can be both organized and completely secluded. Here is a list of the best beaches on the island of Kefalonia.
Myrtos beach, located between the mountains of Agia Dynati and Kalon Oros, is one of the most famous and beautiful beaches of Kefalonia. It is an extensive coast with turquoise water and white sand, surrounded by steep cliffs. Myrtos beach is easily accessible and well organized with sunshades, sun decks, and a snack bar.
Antisamos, another gem of a beach, is a huge bay with golden sand, clear water, and surrounded by lush greenery. The scenery is just breathtaking, probably why it was featured in the Hollywood movie Captain Corelli's Mandolin. 
Petani beach on the peninsula of Paliki is a beach with turquoise blue water and spectacular cliffs. This stunning beach consists mainly of sand, with some pebbles on the shore, and is halfway organized with sun decks, sunshades, showers and toilets, and a few taverns. It is also close to some beautiful monasteries and villages worth discovering.
The fishing village of Skala on the southern tip of Kefalonia has a large beach just a few minutes' walks from the harbor. This long, sandy beach is known for its cleanliness and organization and is a beautiful place for family holidays. It is an excellent place for snorkeling, and on the main road nearby, there are restaurants, cafes, and markets, making it a popular summer attraction.
16 Brac, Croatia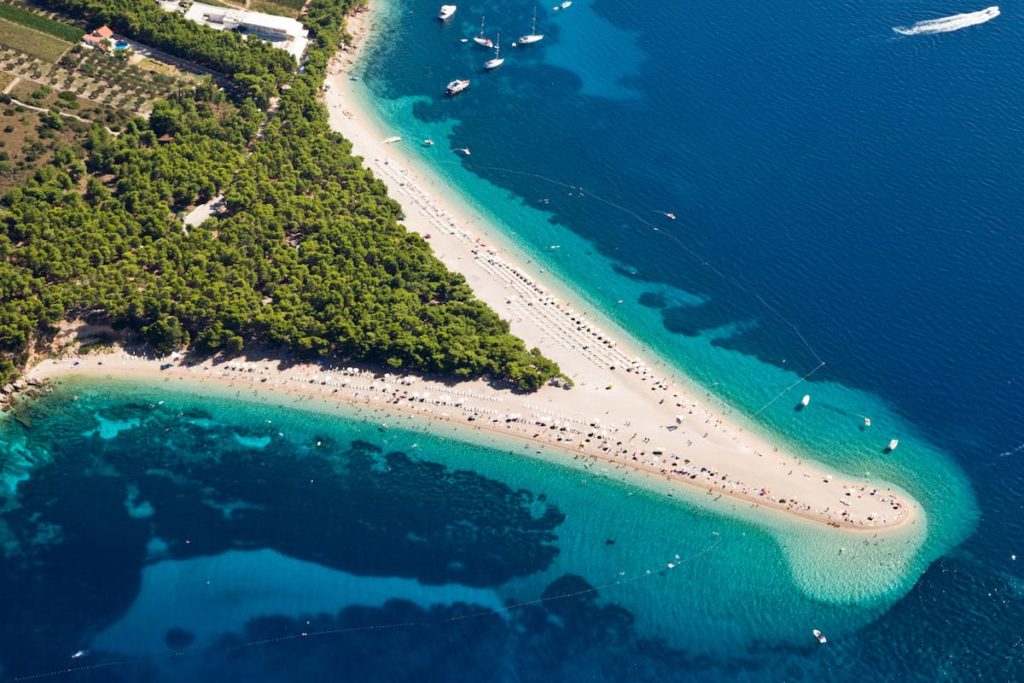 Brac Island, the third largest of the islands on the Adriatic coast, offers a magnificent coastal landscape dominated steep cliffs, deep blue water, and pine forests.
Golden Horn Beach or Zlatni Rat, the long pebble beach of the town of Bol Town, is the most famous beach and the biggest attraction of the island. The beach forms a long tongue extending 500 m into the sea. It naturally changes the direction due to strong winds and sea currents, which is why it is also popular with windsurfers. The beach is rewarded with a Blue Flag, and with smaller pebbles than other beaches on the island, Zlatni Rat has crystal clear waters that differ from different shades of blue. As the beach gets very crowded during high season, make sure to come early or visit it before or after the peak summer months of July and August.
Martinica beach near the city center of Bol is divided into two parts by a small cape with a monastery. East of the monastery, there is a beautiful bay with a beautiful view of the surrounding hill and the island of Hvar. The beach offers little or no shade, but in the afternoon, when the typical mistral wind blows, it is protected by the headland of the monastery. There are a beach bar and a restaurant in the inner courtyard of the monastery offering tasty local food.
One of the most visited bays on the south coast of Brac is definitely Blaca Bay to the west of the city of Bol. Blaca is not only known for its historic hermitage (cave monastery), but also for its breathtaking bay surrounded by a dense pine forest. Deep in the same bay lies a beautiful beach. 
The beach of Lovrecina is a beautiful sandy beach located near the charming town of Positra on the north side of the island. You can reach the beach by car or from the sea. It is surrounded by pine forests that offer a natural and cool shade on hot summer days. On the beach, a café and local restaurants are serving various specialties of the island. 
17 Porquerolles, France
Only 20 minutes by boat from Hyères, on the French Riviera, Porquerolles is a real island paradise, known for its sandy beaches and its turquoise and transparent waters.
One of them is Plage de Notre Dame, no doubt one of the most beautiful beaches in France. Sand and pine trees work beautifully together to create a scene reminiscent of a distant desert island.
Plage d'Argent is another gem of a beach on the island. Five minutes by bicycle from the pier or 15 minutes on foot, it offers shallow turquoise waters. The beach is protected from the mistral, and the pine forest behind the forest offers a unique scenery. 
Plage du Langoustier is sheltered from the wind, which makes it a particularly pleasant beach with clear and transparent water. The beach offers a magnificent panorama of the Gien peninsula. Near the beach is the fortress of Lobster with breathtaking views of the Mediterranean. However, this beach provides very little shade, so take a parasol. It is less accessible than the first two as it is around 30 minutes by bicycle from the village.
18 Krk, Croatia
Located in the center of Kvarner Bay, the island of Krk is considered one of the most attractive tourist destinations in Croatia. Its mild Mediterranean climate, excellent geographical location, and variety of natural and cultural beauties have given it the name "Golden Island" since ancient times.
The island of Krk has many beautiful beaches ranging from fine, coarse pebble or sandy beaches to artificially paved bathing areas.
The beautiful beach Vela Luka is 6 km away from Baška. While it is impossible to reach the beach by car, you can choose to get there walking through the karst of Krk or come by boat. The secluded beach has beautiful pebbles and sand, and although it is far away from civilization, there is a restaurant, deck chairs, parasols, and pedal boats.  
Baška is known for its main beach, Vela plaža, which is undoubtedly one of the most beautiful natural beaches in Croatia with very clear water. The beach is completely natural and offers plenty of space due to its length of 1800 meters. There is a wide selection of beach bars, sun lounger and parasol hires, jet ski hire, parasailing, and much more. 
Oprna Beach is just breathtaking but at the same time, one of the most inaccessible beaches on the island of Krk. It is located in a beautiful bay, directly in front of Stara Baška. One way to get to the beach is via narrow and bumpy paths. And once you spot the crystal clear water, you know it was worth the effort!